United lost for the third time in four games in all competitions, going down 1-0 at home to Aston Villa on Saturday following their Carabao Cup third-round defeat by West Ham on Wednesday; Neville also reflects on Man City's win at Chelsea and the north London derby
United lost for the third time in four games in all competitions, going down 1-0 at home to Aston Villa on Saturday following their Carabao Cup third-round defeat by West Ham on Wednesday.
After signing Cristiano Ronaldo, Jadon Sancho and Raphael Varane in the summer, Neville says there is pressure on the club to win a trophy in the next 18 months, but he believes the club will see out the Ole Gunnar Solskjaer project, because sacking managers previously has not worked.
Neville also reflects on Manchester City's impressive win at Chelsea on Saturday, as well as Arsenal's north London derby blitz against Tottenham on Super Sunday.
I said it even when they were winning, even when Ronaldo scored, they don't play well enough as a team to win this league in my view. They don't play well enough as a team.
I think you have to be a unit in and out of possession, and when you only deliver in moments, those moments won't go for you in certain games. You need patterns of play, you need a way of playing, and at this moment in time I still see a group of individuals playing in moments, with some patterns and combinations at times, but still a team where some are pretty new together – Cristiano Ronaldo, Raphael Varane, Jadon Sancho – but they've got to come together as a team and start to define a style of play. Then you start to get results when you don't play well.
The way they are at the moment, they'll always have days like Saturday against Villa. They'll have patches of four or five games where they only win two, but then they'll go and win 15 on the bounce and be unbeaten away from home for a while.
That's the type of team they are. I have called them the odd bunch, because I still look at them and think of them as a team who win games in moments.
I look at Chelsea, Liverpool and Man City, they are teams. They put team performances in. That's not to say United never do, but Ole now has to get United into a team.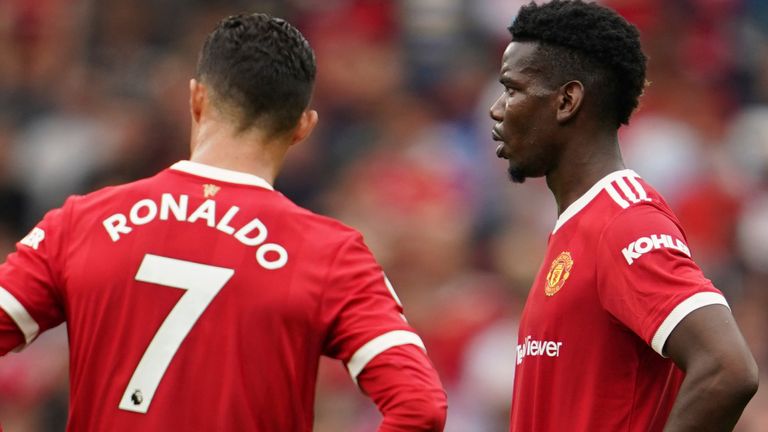 I said two weeks ago that the Ronaldo signing was make or break. That's not me putting pressure on the players or manager, it's a matter of fact. If you sign Edinson Cavani, Bruno Fernandes, Ronaldo, Varane and Sancho, you've got to then win a trophy at some point in the next 12 to 18 months. This season or next, when Ronaldo is here, that's why it's a make or break signing. They have to win a trophy.
That's why the West Ham result was bad on Wednesday. I'm sat there at home watching, thinking: "This is one of trophies they can win." Actually, I've seen this trophy be a springboard for teams to be really successful. Pep Guardiola and Jose Mourinho, two of the greatest managers in the world in the last 20 years, have won that trophy as a springboard. Sir Alex Ferguson too in 2005/06. I lifted the trophy, and all of a sudden in two years later we were in Champions League finals and winning it. It was the first real trophy of the Ronaldo and Wayne Rooney years.
Go and beat West Ham, get to the next round and win a trophy in March. Then there is impetus for the rest of the season, and the confidence is there. There is definitely some pressure building after Saturday, but they'll win five or six games on the bounce. They might lose on Wednesday against Villarreal or against Everton at the weekend, but they'll then go and win games on the bounce.
Ole Gunnar Solskjaer says Aston Villa's winner should have been called as offside by the officials as Manchester United fell to defeat at Old Trafford.
There was a lot of 'Ole out' talk on Saturday. The club have done that over the last eight or 10 years. It's not worked. They will see this project through; I don't like calling a managerial reign projects, but they will see this through.
They've had great managers, world class managers, international managers in the building, and it's not worked for the club or the fans. The style of play, whatever it might be. However, it does seem at this moment that the dressing room is happy. But they've got to start becoming a team.
I know what's going to happen when I see Man City building up from the back. I know what's going to happen at Liverpool. When Man Utd are building from the back or through midfield, I don't know what's coming next sometimes.
(Visited 1 times, 1 visits today)